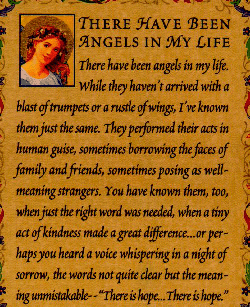 An Angel wrote:
  Many people will walk in and out or your life,
but only true friends will leave footprints in your heart
. To handle yourself, use your head,
To handle others, use your heart.
  Anger is only one letter short of danger.
  If someone betrays you once, it's his fault.
If he betrays you twice, it's your fault.
  Great minds discuss ideas;
Average minds discuss events;
Small minds discuss people.
  God Gives every bird it's food,
 but He does not throw it into it's nest.
  He who loses money, loses much;
He who loses a friend, loses more;
He who loses faith, loses all.
  Beautiful young people are acts of nature,
but beautiful old people are works of art.
  Learn from the mistakes of others.
  You can't live long enough to make them all yourself.
   The tongue weighs practically nothing,
but so few people can hold it.
  Friends, you and me ... you brought another friend...
and then there were 3 ...
we started our group...
 Our circle of friends ...
and like the circle ... there's no beginning ...
 there is no end.



Angels

by Paul L. Glaze

Angels Of Heaven Perform At Their Best While Observing Us In Our Daily Quest.

Sacred And Divine Though They Truly Be. They Stand As Guardians Over You And Me.

From Heavens Hall There Is One For All We Each Have An Angel On Personal Call.

Angels Are Always Within Our Reach. They Are Here To Care, Heal And Teach.

So If Life Becomes To Much To Bear Remember Your Angel Is Always There.

God Sends Them From His Kingdom Above To Shower Our Sorrows
With Comfort And Love.

Copyright ©1996 Paul L. Glaze. All rights reserved.



EARTH ANGELS
They walk this earth, in quite abide
Living far and wide over the countryside.
All over this earth, in its width and girth.
As mortals who live and die thru birth
Travailing toil, through youth and old
In complete control of body and soul .
Mortals like we in body and name.
Souls who disclaim all claim to fame.
They are teachers, preachers, of many features
From all the races with various faces.
Doctors, and nurses, Musicians with verses.
Quakers and bakers, average homemakers.
They are mortals no different than we.
Who captains our ship in the saviors sea.
Offering assistance is their personal pride
The highest level of Heaven they abide
Earth and Heaven they constantly soar
Gods hallowed Angels of evermore.
Copyright ©1996 Paul L. Glaze. All rights reserved.




[Home][Zachary][Nathaniel][Nicholas][About Me][A Red Rose][Angels][A Wonderful Dream]
[Phantom Of Delight]
[Friendship Quilt][Where The Fairies Fly][The Sacred Vow][In Loving Memory][The Man I Love][Missing Children]
[Gifts][Apply For My Award][Awards I Have Won]
[My adoptions][My Best Friend][My Webrings] Sign Guestbook][View Guestbook][E Mail]